More than a month ago I started working on JavaScript IntelliSense for Meteor. Several days ago I presented it in my lightning talk on Meteor Devshop 11. After getting lots of positive responses on Twitter and the meteor-talk mailing list I continue on improving it. My work brings more intelligent tooling to Sublime Text 2/3, Vim and Emacs when you work on a Meteor app in JavaScript.
There is a simple problem with web development these days: the tooling is lacking a lot of features people had for years: static analysis tools, runtime dynamic analysers, code editors support and others.
Code editor support is especially important as we spend most of our time there: writing and, more commonly, reading and exploring code. Modern IDEs like WebStorm and Visual Studio have accomplished big results in bringing such intelligent support to their costly products. For light-weight editors lovers there is open-source project working on that - TernJS.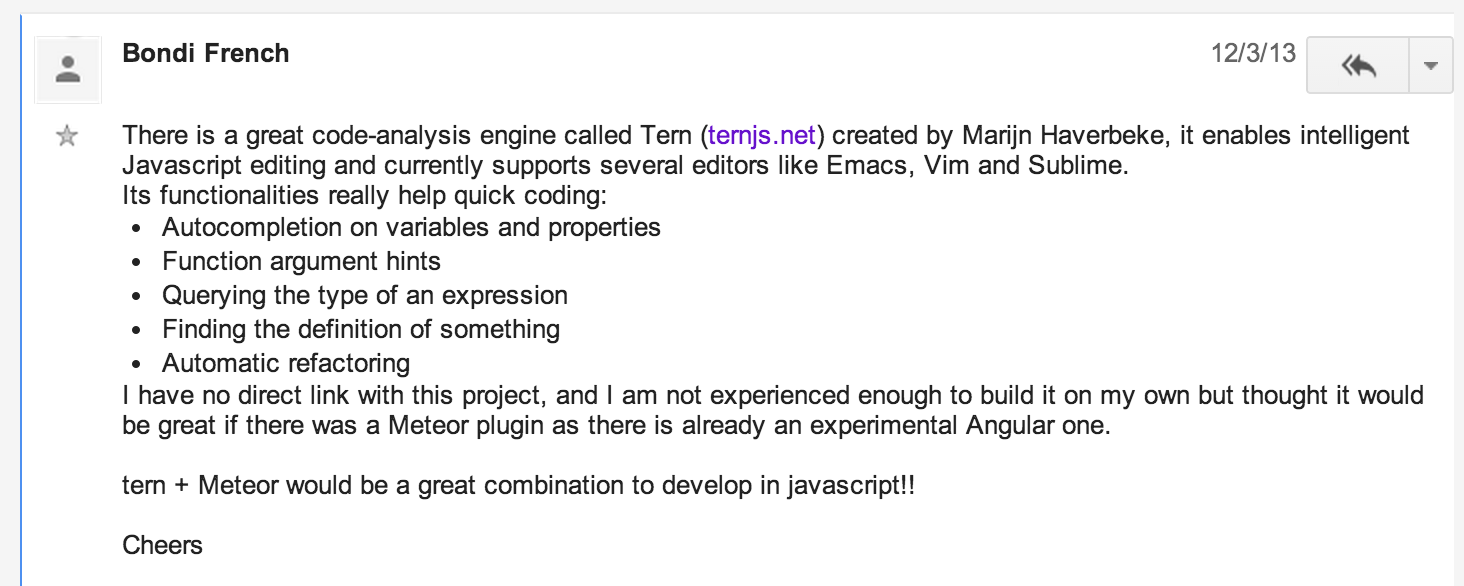 One day I opened an interesting email from Bondi French to meteor-talk. In his email Bondi asked if anyone tried to integrate TernJS, code-analysis engine for JavaScript, with Meteor. It looked like a good idea to me and I decided to give it a try.
Fortunately, I was on my vacation hanging out on sunny warm San Diego beaches with my good friends, so I had a lot of time to "background process" these thoughts.
Nothing made me so enthusiastic to work on such project like a good time spent outdoors in a good company of friends. It probably was the first time in last 6 month when I got so much sun and spent less than 10 hours a day in front of a computer.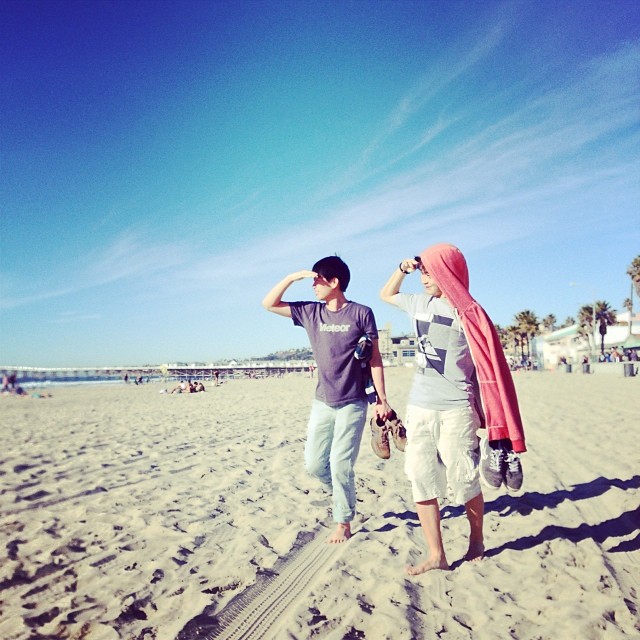 One day I refused to go to a movie theater with others and sat down for a solid couple of hours implementing an MVP for Meteor + Tern integration: convert type definitions of Meteor public API (using existing work of meteor.ts.d) and teaching Tern basic scoping rules of Meteor.
After my vacation week I found another weekend to finish and test my work. After testing it on a simple app with Sublime Text first, I recorded a simple screencast to show my work to people. The next day I recorded the sequel walking through the installation process for Vim. The same day happy users reported this plugin to work on Emacs as well. I was happy. The MVP worked for people. It worked for me.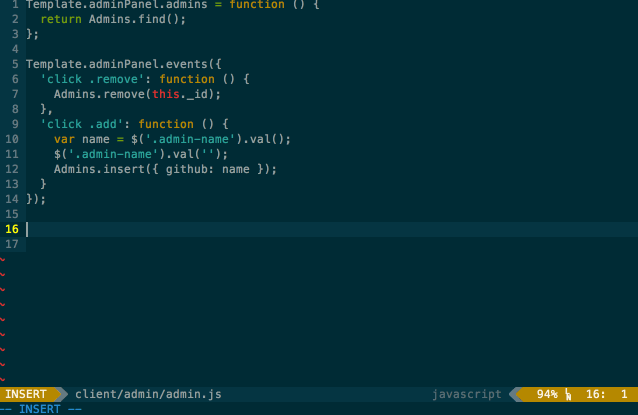 Smart types-based auto-completion, "jump to definition", "find references", documentation look up in Meteor apps worked out of the box, thanks to Tern's flexible plugin system.
To reach the wider audience I proposed my lightning talk and showed off to everyone on the Internet.
I consider it to be pretty successful for a weekend for fun project:
It works for my work
Everyone on the mailing list thread was excited and supportive
The GitHub repo got more than 350 unique views in over the first week
It also got covered by all Meteoric knowledge sources: meteor-talk mailing list, Meteor's twitter, /r/Meteor, Meteorpedia, Meteor Hacks weekly, Meteor Podcast, Meteor Devshop SF, Meteor's Youtube channel. That's hard to miss :).
#MeteorDevshop: Meteor autocompletion for Vim, Emacs and Sublime Text: https://t.co/Zkperjba9C; Slides: http://t.co/hTNJTDIaJb

— Slava Kim (@imslavko) January 31, 2014
But it is not over yet! There is a big room for improvements in my plugin! I am already in the process of bringing Meteor smart-packages analysis support, documentation support and bringing the tooling for definitions generation for newer Meteor versions and Atmosphere packages.
Hopefully, this little side project will make a lot more people happier working with Meteor. Alright, folks, I going back to oplog work. Will work on this during next weekend!